Step-by-Step Guide to Writing SEO Optimised Product Descriptions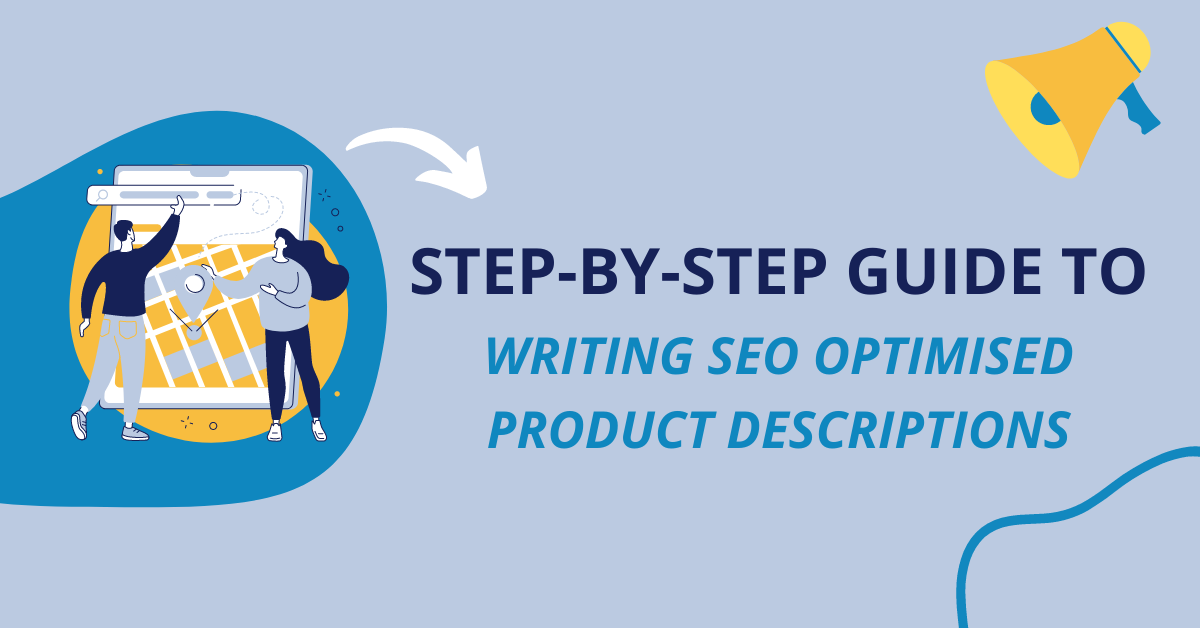 In this article, I will be taking you through my Step-By-Step Guide to Writing SEO Optimised Product Descriptions and how to use SEO techniques to improve your website traffic. It may take some time and dedication for these techniques to take effect but it's always worth doing as results will see a gradual improvement over time.
What is an SEO Optimised Product Description?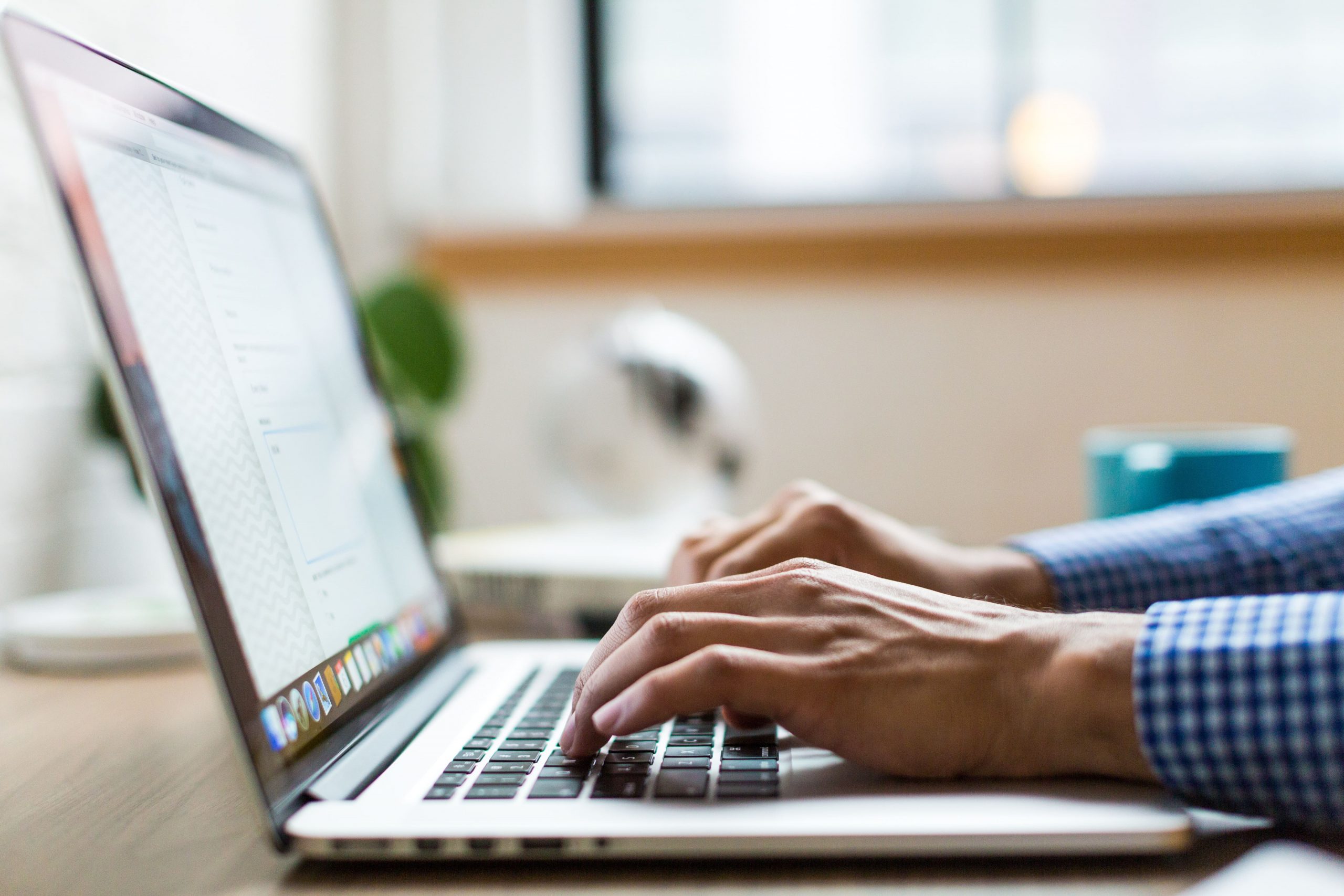 Online sales have seen huge growth on a global scale since the covid pandemic, with 67% of all consumers having changed the way they shop as a result. This brings lots of online competition, so it is important to make sure your website is ranking high on search engine results pages.
Search Engine Optimisation is the process of improving both the quality and quantity of traffic to your website and writing SEO Product Descriptions enables you to rank high on search engines. It can take a while to figure out how you want to approach your product descriptions, but there is no right or wrong as this will differ between different company niches.
Are Product Descriptions Important For SEO?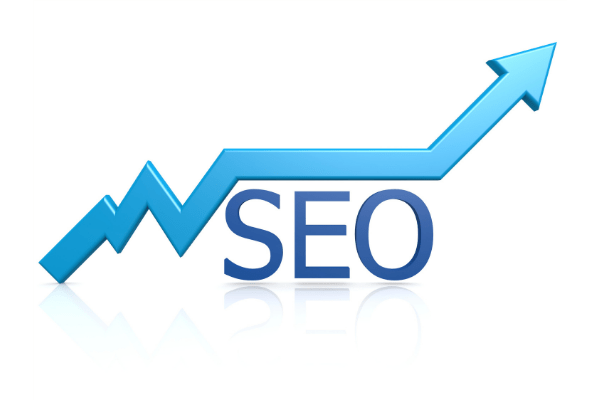 You may be wondering whether product descriptions are important for SEO, the answer is a definite yes. Statistics show that 49% of respondents for the #SEJSurveySays Twitter poll revealed that organic search is the digital marketing channel that brings them the highest return on investment. With so many people now shopping online, good product descriptions have become crucial to improving your website rankings.
As your service or product is online, you will need to give your customers as much information as possible. This is because your audience is not able to physically see or examine what you are offering the same way they would in person and need extra persuasion to purchase.
Why Are Product Descriptions Important?
Product descriptions are important because they help your business become more visible online and gives the potential buyer the information they need before making a purchase.
These descriptions give you the chance to enhance customer experience and drive conversions by using relevant keywords to gain increased amounts of organic traffic. By using the right SEO techniques, product descriptions can have a positive effect on your website and make you stand out from the competition.
Fun Fact: Back in 2020, the number of UK internet users making online purchases went up from 78% in 2018!
How Do Product Descriptions Effect SEO?
Product Descriptions can affect your SEO in many positive ways. One example of this would be creating your own original copy. Unique descriptions give you an advantage over competitors as many companies will just copy the manufactures description for a product and fail to offer their customers a new experience or provide them with the information they need.
Lengthy text combined with high-quality images and a call to action will increase your chances of being on Google's first result page and therefore increase the traffic to your site.
How to Write SEO Friendly Product Descriptions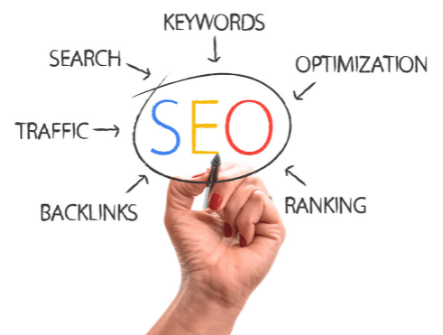 If you are looking to create your own SEO friendly product descriptions, then there are a few factors that you must consider. Some content management systems, such as WordPress, will have SEO plugins to help you out when writing content whereas others may not. 
An example of this Includes Rank Math, an SEO plugin for Word Press that enables you to optimise your content using the built-in suggestions provided.
Anyone can produce high-ranking content, and I have listed a few steps to help you out and keep you on track.
Identify Your Audience
Before you can begin creating your product description, it is important to know who your audience is. To do this you will need to research these key audience objectives:
Location
Age
Gender
Interests
Education
Occupation
Demographic Segmentation
Audience Demographics include factors such as the age, gender, ethnicity, education, and religion of your audience. This information allows you to target your audience using the right platforms and enables better customer service.
Geographic Segmentation
Geographic Segmentation includes the location of your audience. Being aware of your audience's location enables you to define your target market and advertise within these areas. For example, if you are a business operating in the UK only then there is no point in advertising abroad.
Fun Fact: There are 5 key areas for Geographic Segmentation: Location, Urbanicity, Climate, Culture, and Language!
Psychographic Segmentation
Psychographic Segmentation includes the values, beliefs, and attitudes of your audience. Knowledge of your audience's psychographic will allow you to understand your buyer persona. This information can help you market according to their expectations and persuade them to make a purchase.
There are many ways to find this information, including Google Analytics, Customer Surveys, and Social Media Insights. As well as gathering data, you can research your competitors to see who their target market is. This is important because you can tailor your product description to include information about them which makes them resonate with the product.
For example, if you were selling a party game and targeting parents, you would make sure to use easy-to-understand and persuasive language so that the item appeals to the entire family. Some companies will have a stricter target audience, an example of this may include doll companies who will target parents as the products are created mainly for young girls aged between 7 and 9 years old.
Do Your Keyword Research
As previously mentioned, a great way to rank your site on the Google Index is by using keywords throughout your title, meta description, and overall content. You may be wondering how to find keywords for SEO, and a great way to find relevant keywords for your content is Google Adwords Keyword Planner.
This is designed to help you find a range of keywords you can use and reveals how well it performs on Google's ranking.

There are two types of keywords, and these are referred to as Long and Short Tail Keywords. Long Tail Keywords are phrases that contain more than three keywords. These are more target phrases as they are longer and search for a specific audience.
Examples of these include: "simple SEO tips for small business" or "quick and easy family recipes." Short Tail Keywords are phrases that contain three words or less. The shorter the keyword, the higher the volume because the search term is broader. Examples of these include: "search engine optimisation" or "dinner recipes."
Don't forget that all keywords you include must be relevant to your content and should naturally fit in when writing. Another good way to decide on keywords is to imagine you are a part of your target audience and think of what searches you may make to access the content.
Although you can have multiple keywords, I recommend focusing on either one or two throughout most of your content. This is because having too many may clutter your content, look unprofessional, and have a lower ranking as a result.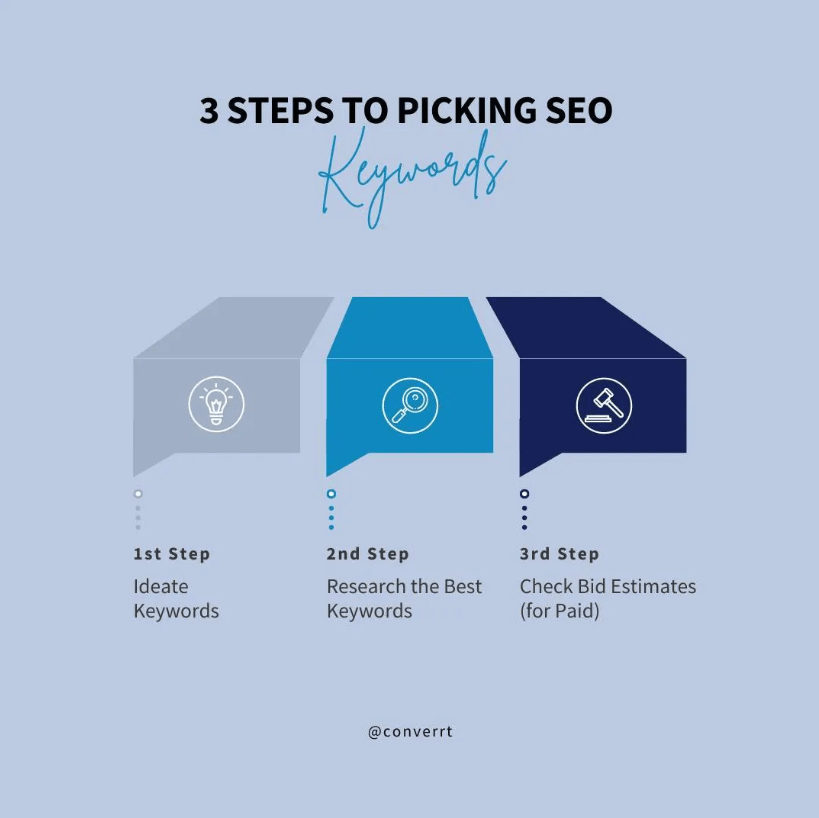 Decide on Length and Structure
Another factor to consider is how you would like to structure your description and how long you would like it to be. Yoast recommends a post length with a minimum of 300 words, this gives Google a better understanding of what your text is about and possibly gives it a higher ranking.
It is also important to consider the structure of your content, as this can create opportunities to improve SEO and include keywords. For example, including keywords in subheadings and general text will help Google to recognise what the description is about and show it to the relevant audience.
Rank Math provides suggestions for an entire page of SEO to improve the structure of your content rather than just product descriptions.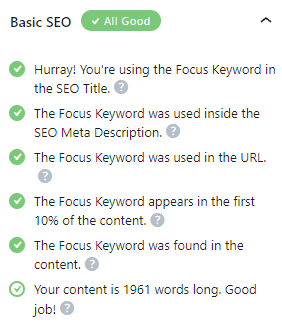 Focus on Language and Readability
As well as optimising your copy, it is recommended to boost your contents readability scores. Scores will be based on the length of your paragraphs, words used throughout, and the complexity of your text. For example, power words usually have stronger meanings and impacts on your audience to help trigger a response. Examples of power words include:
Passionate
Remarkable
Affordable
Bargain
Genuine
Triumphant
Gripping
Breath-taking
On-Demand
Step-By-Step
Impressive
In addition to power words, the readability score can be improved by using both positive and negative sentiment words. These are words that can be used in your title to evoke positive and negative responses. Positive words may include accomplishment, blissful, charming, elegant, and happiness. On the other hand, negative words may include abolishing, alienated, bewildering, catastrophic, and chaotic.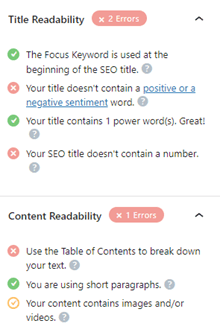 Create Unique Copy
One of the most important, if not the most important, On-Page SEO technique is making sure that your copy is completely unique. Google does not react well to duplicated copy and will lower rankings for this reason.
To ensure this doesn't happen, all copies must be completely unique, even across your own web pages. In the event Google does find a duplicate copy, it will pick one with the better ranking and show it higher on results pages.
It is also useful to use call-to-actions throughout your copy to direct your customers and encourage them to make action on the website. This can include making a purchase, subscribing to an emailing service, directing them to other pages, or directly contacting your business.
You should consider what your call-to-action will say, look like, and where it will be positioned on your page.
Examples of call-to-actions include:
Order Now
Subscribe
Try For Free
Read More
Sign Up Here
Claim Your Free Trial
Click Here to Get Started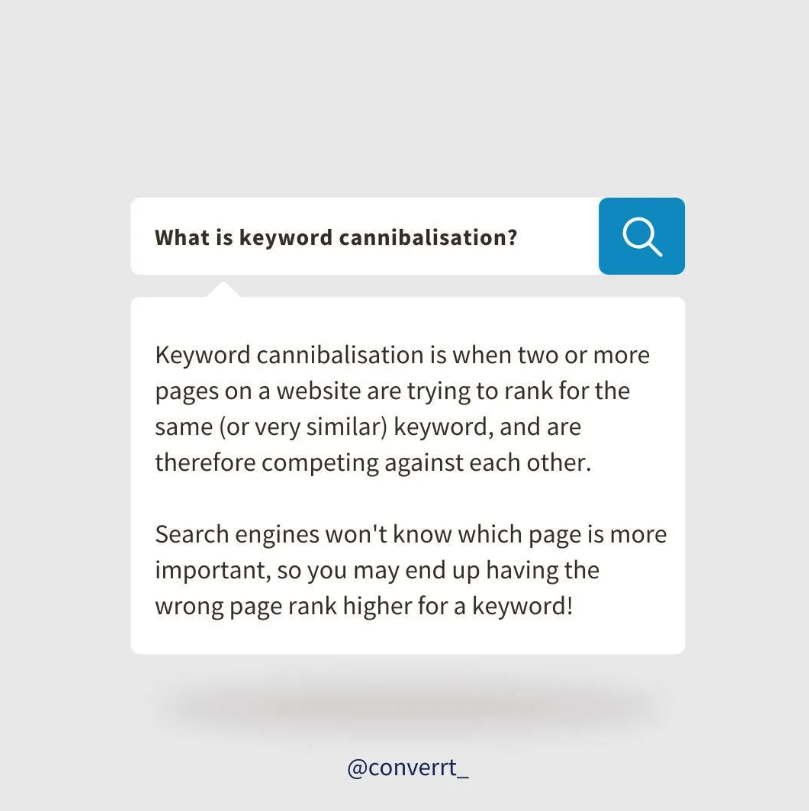 What Are Common SEO Mistakes?
Now you know how to improve your SEO ranking, it is also useful to know what common mistakes are made. If your website is moving up search engine result pages but at an extremely slow pace it may mean that there are mistakes throughout. Here are a few examples of what may be causing your website to rank lower than expected on Google search results:
Slow Loading Speed
Duplicated Content
Irrelevant Content
Broken Images
Outdated Content
Broken Links
Poor Quality Links
Most of these are easy to fix and just involve updating content, adding new information, and replacing old links. Little mistakes such as these can be the reason your website is underperforming, and I would recommend regularly checking your older webpages to measure how they are performing and any errors that may be present.
Now that I have provided you with my Step-By-Step Guide to Writing SEO Optimised Product Descriptions, you will be more than prepared to have a go at writing your own. Alongside these steps, I would highly advise taking some time to research any competitors you may have and any additional information that relates to your content.
The main goal for your descriptions is to give your audience the information they need, keep your text relevant and to the point, ensure your content is clear and precise, and use search-engine-friendly keywords. Once you have discovered a way for you to meet these requirements you can further improve any other web pages you may have and watch as your website climbs its way up the results page.
Good luck and feel free to leave any comments below!